Nanuet DECA Students Succeed
Hang on for a minute...we're trying to find some more stories you might like.
DECA is a program to develop business students in areas such as management, marketing, hospitality, and business administration. DECA is an organization that has been around since the 1940s, and it sponsors competitions on different levels for students to be able to simulate a real-life business situation. In this case, students such as the ones in Nanuet are open to doing role play events with judges or written events in which students research to put together a paper that will be presented to a judge. Mrs. Svara, the head of the business department, is in her fourth year of being the Nanuet DECA advisor. She also teaches two business classes in NHS that are available to students as an elective.
According to Mrs. Svara, DECA is a club really pushes people out of their comfort zone. "It's definitely a lot more challenging than the other things students are doing in the classroom." Many of the students also face challenges due to the fact that NHS doesn't have a robust business curriculum while a lot of the schools that compete have 8 or 10 different business electives that students can choose from. However, two students from the club, Julia Mathew and Lydia Jogijose, competed in a marketing competition, and even though they learned about marketing in the class "Intro to Business," they went out on their own and taught themselves things about marketing that was never covered in class. Being in these events gives students the motivation to pusue self-learning and research, which is something that Mrs. Svara loves seeing. "I love seeing students push themselves, and DECA really provides a lot of opportunities for that."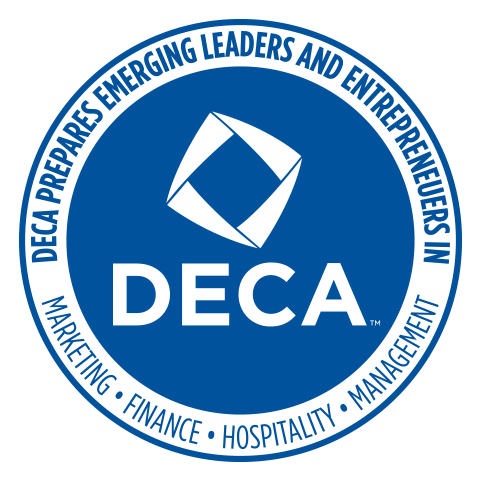 In DECA, the regional competition usually takes place in Rockland Community College each year in early January. This year NHS competed with eleven or twelve different High Schools there, since this year, new schools have been recruited. This allows students to have more competition. The regional competition is for all role play events. There are three major categories for competition–virtual business, whose second round started on January 8th, written events, which involves research to write a paper and doesn't require competing until states, and role play events, which are popular. In role play events, students take a test and then do a role play scenario with a judge, where they are required to offer solutions to a business problem. Eventually judges narrow the fields of students who will go to states. The students doing role play have to get either 3rd or 4th place in regionals in order to qualify to go to states, depending on the events they are in. Students who go to regionals spend the morning doing role plays, and in the afternoon, an award ceremony takes place. The students who participate in role play take the test a couple weeks before the actual competition, and this year, it was taken about a month in advance. Thus, the students' score at regionals combines their test score and their role play score to give them a combined total, which determines how they are ranked. Last year, Sarah Boyle, Matthew Kivlehan, and Brian Sayre attended Nationals (ICDC) for Sports & Entertainment Operations for the Research Event. This year, NHS had about 32 students compete in role play events, and 22 students received medals. We achieved first place in three different events.
The First Place Finishers are Sarah Mammen (Principles of Business Management & Administration), Kevin Zoda (Human Resources Management), and Lydia Jogijose & Julie Mathew (Marketing Management Team Decision Making). The Second Place Finishers are Megan Condon (Restaurant & Food Services Management), Sneha George (Business Services Management), Meghan Judge (Marketing Communications), and Jack Lehane & John Whelan (Business Law & Ethics Team Decision Making). The Third Place Finishers are Amy Thomas (Automobile Services Marketing), Peter Galitzine (Personal Finance Literacy), Kavya Pradeep (Hotel & Lodging Management), Shrividhya Babu & Carol Tsao ( Financial Services Team Decision Making), and Jessica Paness & Zoe Davidson (Hospitality Services Team Decision Making). Lastly, the Fourth Place Finished are Siji Chacko (Accounting Applications), Matthew Padayatti (Apparel & Accessories Marketing), Graham Preston (Retail Merchandising), and Kayla McGregor (Principles of Hospitality & Tourism).
Virtual business, on the other hand, allows students to compete on their own online, and if students are able to make top four over the course of the business challenge, they go straight to nationals, not states. According to Mrs. Svara, virtual business is "really exclusive and really hard to do." NHS had one team do it last year, which Mrs. Svara thought was amazing, since there haven't been any other teams in our region to make nationals through the virtual business challenges. Last year's team consisted of Justin Seo, Kenan Sehnawi, and Cyle Warner, who competed in the Sports section of the virtual business competitions.
Once a team qualifies for states, students go to the states competition and compete against schools all over New York. It's a three day trip with a lot going on, since the stakes are higher and students are competing against several other teams. In many events, students are up against 30 to 50 other competitors, depending on the events — some events having even more than 50. Some events consist of 80-90 competitors. But, if a team happens to get 1st, 2nd, 3rd or even 4th place in some events, a standard which change year to year based on membership and the allotments given, they qualify to go to nationals, which is really an international competition since there are 12 other countries that are coming. However, it is always held in the United States. This year nationals is being held in Orlando, and it is at the end of April. If NHS has any teams that go to nationals, they will go at the end of April and do competitions again. The virtual business students who have been competing online, will actually be competing real time with other teams, like in a "round Robins sort of tournament." The other teams who do role play or present their written events, will compete the way they did at states. If a team manages to win at the international competition, the awards are held in a 20,000 seat arena. It's a huge honor to be able to win and just compete at nationals.
This year Mrs. Svara thinks that the chances are good. "I definitely have a lot of confidence in a few teams that are going to be competing in states, they seem to be very well prepared already, even though things aren't due for a couple weeks, and we have the same virtual business team competing again, and I think their chances are great. I am cautiously optimistic that we will be going to nationals again this year!"