Art Club Continues to Spread Art and Joy
Many of the Nanuet High School's clubs have found inspiring and engaging events and activities to do during these unusual times. The High School's Art Club held a creative and interesting event during this past holiday season.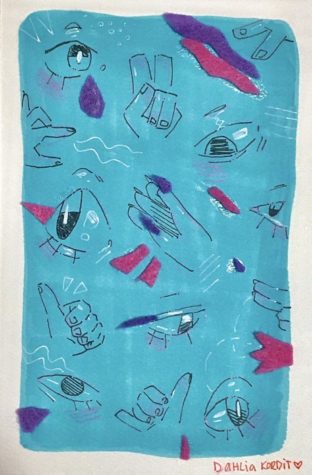 Students came up with the idea of the Art Club's version of Secret Santa (also known as Veiled Van Gogh/Mystery Monet). Each student contributed a theme and color, which was then given randomly to other students without knowing who came up with each idea until the reveal at the end, according to art teacher and Art Club Director Ms. Tidd.
"The idea came about during a Zoom meeting," she said. "We were discussing ideas of doing a collaborative piece or something like a relay/tag project, which then led to one of the members suggesting we do a Secret Santa in Art Club. We made all the right connections and Veiled Van Gogh/ Mystery Monet was born!"
Many members of the art club hope that this event can grow into an annual activity, Ms. Tidd added.  
"I could not have been more pleased," she said. "It was truly an inspirational experience. It was so much fun and such a bright beautiful experience during what has been such a down time for so many."
The art club has done a fantastic job with creating a sense of community through this fantastic medium. Members of the art club reported that they enjoyed this event both as a givers and receivers, and they look forward to possibly doing it again next year.
Camille Ackerman, a sophomore, discussed how much she valued the event. 
"The Art Club has spread love and art within the community," she said. "Ms. Tidd and the rest of the club have bettered the school in many ways, through the various murals, decorations, and promotional artwork it has done. This year, it contributed to the front lobby display and fostered a sense of community between its members with the Mystery Monet exchange."
In years past, the art club has created murals and various other artwork for the school. It also helped paint the Miller Elementary School's blacktop playground for students to enjoy. This year, it contributed to the front lobby display and hosted an art exchange, the "Mystery Monet," gifting artwork based on each other's prompts. 
According to Freshman student Dahlia Kordit, Art Club has created a space and opportunity for students to take a break from the computer and the stress of online learning to focus on creativity.
"I think Art Club has, and will, be able to inspire other students to spend time on their own hobbies, whether that be creating art or doing other activities they enjoy," she said. "We work on different projects that are displayed throughout the school and on social media, so others can take a break from their hectic lives to see what we've done and possibly decide to make something of their own for fun as well." 
One of the main goals of the club is for students to collaborate creatively and bring joy to the entire school community, according to Ackerman. 
"I believe the main goal of the art club is to create art and use it to bring people together," she said. "Many projects the art club has done, including ones this year such as the Mystery Monet works or front lobby display, served to bring people together or contribute to the school or community. Above all, it was made to create and inspire."
Beyond that, making art is a great way to relieve stress, Kordit added.
"Since we all spend a lot of time looking at computer screens, opportunities where we can step away from that are really valuable," she said. "It can be hard to think of projects to work on even when you want to take a break, so the Art Club also serves as that push of inspiration for members and other students who see our work." 
Overall, it is clear to see how the art club is thriving even during these difficult times, bringing themselves and the school together as a community.