"Almost Maine" Comes to Nanuet
Hang on for a minute...we're trying to find some more stories you might like.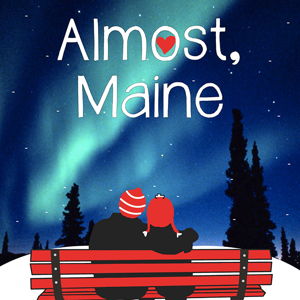 The Nanuet Senior High School fall drama comes around once a year. This year the heartwarming and clever drama of Almost, Maine will be featured. "Magically realistic" is how senior Nicola Ferro described the show. The cast has been working assiduously hard to bring the production to the level of professionalism it has achieved. The show will be premiering the 9th and 10th of November in the High School Auditorium and tickets can be found on the Nanuet Senior High School website for ten (10) dollars. The website is atwww.nanuetsd.seatyourself.biz.
Almost, Maine as described by Sneha George, a senior who acts and participates in building/painting crew, is a quirky and whimsical play. Each scene is a different story but they all have a recurring theme: love in the town of Almost, Maine. This play even has one scene features two female love interests. Many members of the cast and crew are happy with this story and the other tales in the play push the boundaries of theater.
In recent years, many students have dismissed the fall play as dull or dry; however, as said by Shane Romer, a sophomore in the production, "This play has something for everyone". Romer furthered this thought by adding, ''Some parts make you cry, some make you laugh and some make you think". Melanie Clancy, a senior in this production, adds that it is one of the more "modern" plays that Nanuet has done, so she thinks it can be more relatable for the audience. In addition to the content itself, many students have enjoyed seeing their peers doing something they feel really passionate about. Anybody remotely interested in seeing this play should since it has something for everybody.
With the tremendous effort put in by so many students, this production has captured the Nanuet spirit. The talented cast has been working on the play for months trying to perfect their performances. In addition, to the people on stage, there are various people who have worked just as hard to make this production possible. One group that works particularly hard is the costume crew says Andrew Carr, the director who is working on his first production at Nanuet High School. While the costumes may look like something one could find in a closet, each item of clothing for each character was chosen for a specific reason. Moreover, all the sets on stage were all built, designed and painted by dedicated students who go unacknowledged. Once the play starts, all these students will have an equally important job that once again the audience doesn't see. These hard-working students work in lighting, running and sound crew, all laborious and stressful tasks. All these students come together to work as a team to create a great show for the audience to enjoy even though many contributions are not seen.
These productions to the untrained eye may seem like a school activity but in fact, they are much more. Andrew Carr, the director of the production said that play gives a "sense of community" to students working on any part of it. Each part of the community producing the play intertwines and relates to one another to create this beautiful masterpiece. This second family, which all the productions become, creates a welcoming environment for all newcomers hoping to participate. In addition to this wonderful play, The Nanuet Drama Department will also put on a spring musical. These productions have become a great opportunity for many students to step outside their comfort zones whether they are involved with building, painting or acting. Shane Romer also said, "This atmosphere helped me build self-confidence by making new friends and being able to go up on stage and perform." This community has introduced many people such as Alexandra Blum, a sophomore, who was introduced to her passion by this department, to acting. This environment has been so inspirational to students that many graduates return to attend the play and be involved in the production. The connections that characters have on stage undeniably have truth within them. This second family is the reason for all the wonderful successes the drama department has had. Overall, this positive environment has created a second family for students, a second family that any Nanuet student can join.
This community is hoping to produce a really amazing performance of Almost, Maine for its audience. The whimsical and quirky play of Almost, Maine hopes to see a large audience! Once again, the show will be premiering the 9th and 10th of November in the High School Auditorium and tickets can be found on the Nanuet Senior high school website for ten dollars located at www.nanuetsd.seatyourself.biz.