Nanuet High School Moves Its Schedule Into The Future
Later School Day Having a Positive Effect
Hang on for a minute...we're trying to find some more stories you might like.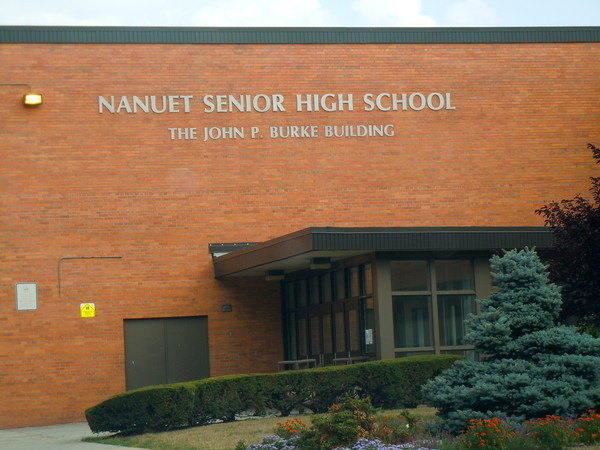 There was no question regarding the change in start time for high school students at Nanuet; it was a necessity. Superintendent Dr. McNeil made this clear, and his logic is well supported. Countless reliable sources of medical research, namely the American Academy of Pediatrics and the CDC, have devoted countless hours of research to proving the fact that it is necessary for high schools in the United States to start later.
This information is old news for the Board of Education of Nanuet, and the schedule change that took place this year has been in consideration for quite some time now. In fact, Dr. McNeil recalls an article similar to this one detailing the need for a change in start time that he was interviewed for back in 2014, when the research supporting a different start time was first published. Following that year, a different school district in Rockland County, South Orangetown, pushed their start time back to 8:15. Nanuet considered doing the same, but the transportation budget did not allow for it at the time.
The high school continued to operate on its 7:20-2:00 schedule for a number of years, but it became more and more clear that the issue of changing the start time was a matter of health and safety for high school students. Adjustments have been made so that the new start and end times work with the transportation system already in place for no additional cost. Furthermore, high school students still get home in time to take care of any siblings they have in Miller or Highview Elementary Schools, which don't end school until 3:35.
Dr. McNeil describes 8:30 as the "perfect time" for school, and the only time that truly works for the entire district. Any earlier or later, and the busing schedule would be thrown off track, requiring additional buses at a high cost. 8:30 is the only time available for the schedule that suits the district's financial needs and gives high school students enough time to sleep at night.
So far, Vice Principal Ms. DeGraw and Mr. Mahoney feel that the effect of the time change on the students at Nanuet Senior High School has reflected all of the research that went into the schedule change. Both joked about the increase in the number of students who were willing to do something as simple as say "good morning" to them as they entered school in the morning. Ms. DeGraw also described the difference in tardiness from last year. "The line of late kids used to wrap around the corner", she said. "Now the office is a ghost town in the morning!" Ms. DeGraw has also noticed a difference in students from observing classes. She feels that students, especially in first period classes, are more attentive and engaged this year compared to last. To her, this is a clear indicator of the effectiveness of the later start time.
Mr. Mahoney stated that he thinks the late start time has extended beyond the actual school day, and into the Nanuet community as a whole. School spirit has made a definitive rise this year, with student attendance to various sporting events, particularly volleyball matches, soaring. Mr. Mahoney believes that the later start time must contribute to the increase in student activity in some way.
So what do students think about the start time? Some see problems. Sophomore EB Dudek says that the schedule causes her to be late to school and "the school should listen to all of the concerns and find a solution that works best for everyone." As a member of the Varsity Volleyball team, she is upset that "this change forces my team to start later, affecting the amount of time I have available to do homework." She also sees little to no change in any productivity and school grades. Another student, Jenna Chernick, wishes "there was more student involvement in the decision making because it's our schedule too." She notes that there were problems for Girls' Tennis. Since the other schools end earlier, they come to Nanuet, and our athletes have to rush to change into their uniforms. Last year, there was time before sports that allowed many students to complete some of their school work or at least relax before practice. However, Jenna says she does take advantage of the extra hour, still going to sleep early, and she does, in fact, feel more refreshed throughout the today. Another sophomore, Reia Thomas, feels the same way, and sees, "the other students, at least my friends, seem more awake and ready to learn than last year." She, along with many other students, actually enjoys this and likes the concept and time adjustment of this schedule. However, she thinks it has "too many inconveniences when it comes to bussing and after school activities."
Unsurprisingly, although some were tentative to embrace the new schedule at first, many have grown to like it. Sports practices do begin closer to the end of school now, but the majority of student athletes have been able to manage. Senior Brenda Lema said that the 20 minutes allocated to students between the end of school and practice is adequate time to get changed and take a short break. One student stated that he feels the time he has gained in the morning is lost in the afternoon, but research shows that this time is better allocated to the morning than to the afternoon. Teenagers' circadian rhythms don't allow them to become tired until around 11 pm regardless of time or workload, so they most likely will not fall asleep until at least 11 o'clock anyway. The extra hour in the morning gives students an extra hour of deep REM sleep, which contributes to feeling more well-rested when awake. Other students have agreed that they feel better rested, and they appreciate having more time in the morning. Some students are even taking advantage of the extra time in the morning to better themselves. Senior Shane Roberts stated that he has been using his time to go to the gym before school starts.
As with the students, among the faculty the time shift in the schedule that has been implemented within our school has been met with varying, but mostly positive, reactions. Mrs. Svara, head of the business department, feels as if the shift to one hour later is a factor that is beneficial to students. "It reduces the number of kids that arrive late or miss first period." Mrs. Umbrino, coach of field hockey, likes the new schedule. She believes that the schedule is a good change that allows students to get more sleep and arrive to school on time, although it is a little hard for sports. Mr. Ryan, coach of the Track team at Manhattan College, also believes that the new schedule is helpful. "I think it is better for everyone, especially the students, who are now more alert in the morning." To Mr. Ryan, the schedule is not unknown either. As a child, he used to go to school in Ireland, where the school would not start until 9 am. And to him, the schedule has not had a big impact on his personal life, including the one in the college. On the other hand, Mrs. Ryan, head of Model UN, is not favorable to the new schedule. She believes that the new shift in time is too late, and the schedule should start earlier. "I find it that kids are just as tired as they were before because now they are going to bed even later." She believes that it is difficult for after school clubs and even worse for sports athletes who don't get enough time for a break after school.
When it comes to teaching and to the classes in the morning, most of the responses from a pedagogical aspect are similar. Compared to the previous schedule, most teachers we talked to favor the new schedule. Mrs. Svara suspects that having fewer students come in late is less disruptive to the class. Mrs. Umbrino agrees because she believes that it is easier to teach when students are awake and more engaged. Additionally, on the plus side, because there are fewer absences, teachers need to repeat material fewer times. According to Mrs. Ryan, the earlier start time is better for high school students because either way, kids are rushing. When it comes to the rotating schedule though, Mrs. Ryan likes the fact that students have the ability to drop classes, and longer class periods means more time to learn and teach.
Many teachers in the Nanuet High School are the head of clubs, and/or coaches of sports teams. Because of the shift in time, lunch periods have become common for everybody, but, this year, they are shorter. For club advisors, this is where the problem comes in. Mrs. Svara said "There are a lot more meetings during lunch or earlier in the morning, and fewer meetings after school". This is a thought that was shared by several other teachers. For example, in Mrs. Ryan's opinion, lunch is too short to include time to go to club meetings and eat. For sport advisors such as Mrs. Umbrino, sport teams have to practice later than their usual schedule, meaning for games they will have to stay even longer, and in the end, arrive home even later. This also means there is less time to do homework and go to bed at a reasonable time.
And, although teachers foresee some potential problems because of the later starting time, they also foresee and are experiencing a number of benefits. Mrs. Ryan believes that "Kids have less down time, less time to do homework, and as a result may join fewer clubs because it does not fit into their personal schedules. Students who have to work will also have less time in between, making it harder." From a business aspect, some teachers feel that the later start time could decrease the number of probable teaching candidates. They fear that many people would not like to come into school late. However, others feel that the later start time could also attract potential candidates who have to commute because they get a longer time frame to arrive. Teachers such as Mrs. Umbrino also like the fact that they have the ability to drive to school while the sun is up, instead of early in the morning when it still looks dark out. In Mr. Ryan's opinion, this change is something that has been needed for a while. "I think a lot of school's are changing to later time causing a trend, and the fact that our school's schedule has shifted shows that we are in the process of adjusting. As a result, there is a possibility that schedules will now be synched, which is something students should take advantage of."
Mrs. Ryan hopes that in the future that the schedule be shifted to an earlier start time, whilst Mrs. Umbrino, Mrs. Svara and Mr. Ryan are pleased with the benefits of the schedule.
This schedule change is one huge huge step for the Nanuet school district in improving the lives of students. Others are the new media center as well as the change to a block schedule last year which are all part of the movement to create a more productive and beneficial learning environment. As stated by Ms. DeGraw, "Reflection is a part of growth", and it is evident how much effort and reflection has been put into creating a richer educational experience at Nanuet. In a world of growing research and new educational strategies, Nanuet is adapting for the better.