After eleven years of teaching orchestra in the Nanuet School District, Mr. Alex Fung has started his new journey in teaching the high school orchestra classes, as well as directing the high school's chamber orchestra. He especially feels fortunate to be able to work with many students that he taught previously in Highview. While there are many new experiences and challenges that await, Mr. Fung has embraced them wholeheartedly. He feels that the transition from the middle school to the high school has been excellent overall, and he is looking forward to directing the orchestra.
One of the main things Mr. Fung is looking forward to doing in the high school is being able to teach music at a higher level. Orchestra members in the high school are able to play pieces that are more complex, learn and understand advanced techniques and concepts, and explore musical expression and refinement. Because the expectations and routine are already set for high school musicians, the entire group is able to efficiently use time and accomplish much more than before. Mr. Fung also enjoys the longer time blocs and schedule of the high school because it allows the orchestra to complete more than they had ever been able to do in middle school. He feels that all of these factors allow him to experiment with new and interesting teaching approaches.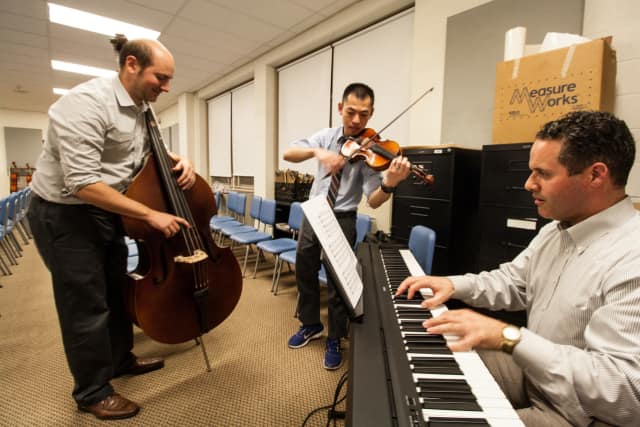 Mr. Fung (middle) working with The Rockland Youth Orchestra
Mr. Fung hopes to be able to teach his students more than just music. While he doesn't expect all of his students to end up with a music major, he hopes that students will be able to apply what they have learned, both the musical and non-musical aspects, in college, and later beyond college. Orchestra allows one to learn how to listen, collaborate, and communicate efficiently with one another, and helps to foster a lifelong love of music; all of which are extremely beneficial skills and features of anyone's life.
Ultimately, Mr. Fung feels that he is undoubtedly still growing and refining himself as a successful music teacher, and is even learning as much as he is trying to teach. Over the years of teaching in Nanuet, he has gained better understanding in listening to what others have to say and contribute, as well as becoming more mindful in what he himself has to say. Additionally, he feels that all members of an orchestra, especially in a chamber orchestra, should be able to contribute to the whole democratically and not have the conductor be seen as the central point. Historically, the orchestra did not even have a conductor for much of its existence, so it relied on every musician to reliably perform his or her role; this goal of self-sufficiency and group leadership is much of what Mr. Fung is striving for.
Overall, it is wise to assume that the orchestra will reach new heights under the guidance and instruction of Mr. Fung, and we will all be looking forward to see such an important part of the school's music program grow even more.