A Twist on a Classic Tale
'What Once Was Mine' Tangles Up the Repunzel Story in a Good Way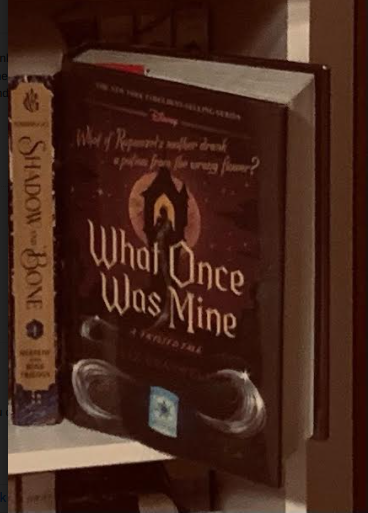 What Once Was Mine by Liz Braswell is a book based on the Disney movie Tangled, except it's not the original story. What Once Was Mine is part of a book series called A Twisted Tale. The covers of all of the books have  a "what if"  question on them, so show what the book will be about. For example, the book cover of this book asks "What if Rapunzel's mother drank a potion from the wrong flower?" This book is an answer to that question. The book begins with Daniela and her brother Brendan just finishing Tangled. Daniela is currently in the hospital with cancer and her brother is just trying to find ways to keep her distracted, as she is laying in a bland hospital room with little to do. Daniela wants to read the book Tangled again and Brendan protests, asking "can't we just do something else that doesn't have to do with Tangled?" So instead of reading the story again he makes up his own version of the story and tells it to Daniela. That is the book's premise. 
Throughout the book the story switches back and forth between the story of Tangled that Brendan is telling and Daniela's hospital room where she and her brother are staying. The story that Brendan tells is not the same as Tangled at all, and it's all because of the question stated at the beginning of the book. We all know the story of Rapunzel, how she has magic hair and how its power is to heal. In this version of the story it's the complete opposite; her parents actually make the choice to give her to Mother Gothel, rather than in the original story where Rapunzel is stolen by Mother Gothel. You could say in this version, yes, Gothel is still the antagonist, Flynn is still the main love interest, they still go on a journey out of Rapunzel's tower, but there's an unexpected surprise; this time they are joined by a woman named Gina. She is a thief who is on the run along with Flynn. 
 Overall, it is a great book, and definitely worth a 4.5/5 rating. Tangled is my all time favorite movie and to see it pictured in a different way was hard to understand at first. I definitely had to let the book grow on me for the first few chapters to like it. But, overall, it is a book I recommend you all read. You can also check out other books by Braswell as part of the series A Twisted Tale. I have not read any others yet, but I can't wait to read more!