Pop Beats and Deep Lyrics Glow in Swift's Album 'Midnights'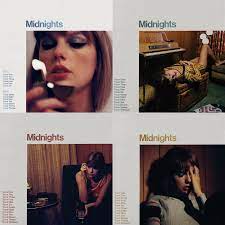 Taylor Swift has done it again! On October 21, 2022, Swift took a break from re-releasing her older songs under her own ownership and released her tenth studio album, Midnights. The album was marketed as a 13-track anthology of "13 sleepless nights" across Swift's career, with an homage to her vastly known lucky number 13. 
Prior to its release, Swift took to TikTok to release a series of videos entitled "Midnights Mayhem With Me", in which she used a metal bingo spinner to randomly release the names of the thirteen tracks, one at a time.
This is the sixth consecutive album that Swift has worked on with Jack Antonoff, to share writing and producing credits. Antonoff and his idiosyncratic sound are legendary, and apparent in the discography of artists such as Lorde and Lana Del Ray. The album juxtaposes her prior two indie-folk albums, with the supplementary use of synths and return to the pop genre. Sonically, the album refers to some previous Swift hits, reusing certain motifs, such as the allusion to the song "Out Of The Woods" in the song "Question…?".
Upon its release, Midnights had a tremendous amount of instant commercial success: the album achieved the Spotify record for the most streamed album in a single day with 186 million streams, all of the album's tracks entered the Billboard Global 200, and Swift became the first artist to occupy the entire top ten of the Global 100. 
The Play By Play:
Track 1: "Lavender Haze"
Synopsis: The opening track tells of the desire to be in a relationship away from prying eyes. The phrase "Lavender Haze" was part of the verbal cannon in the 1950s, and a way of describing being in love; Swift states she first heard this phrase in the TV show Mad Men. The track opens with the phrase "meet me at midnight," which was the tagline for the album.
Fun Fact: This is not the first Taylor Swift song that has been inspired by another piece of media. Swift's seventh album, Lover, features the song "Death By A Thousand Cuts" that was based on the Netflix romantic comedy, Someone Great.
Track 2: "Maroon"
Synopsis: "Maroon" tells of a failed relationship, using heavy color imagery.
Motifs: The chorus's lyrics include a multitude of shades of red, such as burgundy, wine, blood, scarlet, and rust, as well as maroon. This references Swift's fourth album, entitled Red, that, along with some succeeding songs in her discography, is ridden with the symbolism of the color.
Track 3: "Anti-Hero"
Synopsis: Swift has stated that the lead single for the album is one of her favorite songs she has ever written. A vastly personal song, "Anti-Hero" dives deep into Swift's insecurities, specifically the feeling of losing grip on her life and not feeling like a person anymore.
Lyricism: The second verse features the lines, "Did you hear my covert narcissism I disguise as altruism / Like some kind of congressman?" This sort of songwriting, that requires a thesaurus to decode, is very similar to the writing on the preceding two Swift albums, folklore and evermore.
Track 4: "Snow On The Beach" (featuring Lana Del Ray)
Synopsis: This feature compares a new relationship to it snowing on the beach: weird, yet beautiful. Swift describes the song as a "cataclysmic, fated moment" filled with shock and anxiety, yet hope.
Discourse: Many fans of Lana Del Ray are unhappy that Del Ray only is featured in backing vocals on this track, and does not have an allotted verse to herself. This is not the first time a "feature" on a Swift song was a bit less than that, such as HAIM on "no body, no crime".
Track 5: "You're On Your Own, Kid"
Synopsis: This song is truly chronological— the first verse and chorus details a struggle with a relationship,while the second depicts a struggle with career. The bridge then goes into specifics about Swift. But the outro harnesses a shift, changing the meaning of the phrase "you're on your own, kid" from discouraging to uplifting.
Context: Throughout Swift's discography, her "track 5s" are consistently her most vulnerable. The bridge contains the lyrics, "I gave my blood, sweat, and tears for this / I hosted parties and starved my body / Like I'd be saved by a perfect kiss." Swift has been vocal about the eating disorder she suffered from in the early 2010s, and the biggest stereotype that precedes her is her "serial" dating habits.
Track 6: "Midnight Rain"
Synopsis: Track 6 tells a story of post-breakup guilt, in which the speaker's ex wanted a serious relationship but the speaker was not ready.
Lyricism: The song relies on the metaphors, "He was sunshine, I was midnight rain," to show the two people as literary foils, and connote the ex as a better person than the speaker.
Track 7: "Question…?"
Synopsis: The speaker of this song asks belittling rhetorical questions to an ex, trying to almost give them a taste of their own medicine and put them in the place of the speaker.
Discourse: Many believe this track is about the failed relationship between Swift's close friend Selena Gomez and Justin Bieber. In an interview at the 2013 Billboard Music Awards, Swift refused to comment on Bieber's win of the Milestone award, and it is unclear what relationship exists between the two.
Track 8: "Vigilante S***"
Synopsis: This track heavily references reputation, praising the concept of revenge.
Fun Fact: This is the only song on the album that Swift wrote alone.
Track 9: "Bejeweled"
Synopsis: Using sonic twinkles and bells to achieve a bejeweled sound, this song frames someone in a repressive relationship going out and living for themselves.
Media Impact: TikTok user Mikael Arellano started an Internet trend known as the "Bejeweled strut" that has taken Swifties by storm, and popularized the song. 
Track 10: "Labyrinth" 
Synopsis: "Labyrinth" details the early phase of a relationship, ridden with uncertainty, yet excitement.
Motifs: The first verse advises, "Breathe in, breathe through / Breathe deep, breathe out," which is a direct quote from Swift's honorary doctorate speech from May 2022.
Track 11: "Karma"
Synopsis: A major theme in album reputation, "Karma" touches on the Indian religious concept that what goes around comes around, and the energy you put into the universe comes back amplified.
Context: Before her period of time in public isolation, many speculated Swift's sixth studio album was going to be entitled Karma. Instead, she went into a sort of hiding, and came back with the reputation we all know and love.
Track 12: "Sweet Nothing"
Synopsis: Track 12 expresses a sense of content in a relationship, where the speaker does not have to try to be loved, but is for simply being.
Fun Fact: Swift wrote this song with her long term boyfriend, Joe Alwyn, who writes under the pseudonym William Bowery, after Alwyn's musician great grandfather William, and the Bowery Hotel, where Alwyn and Swift were spotted around the time they started dating.
Track 13: "Mastermind"
Synopsis: This track tells the story of the beginning of a relationship—one that seemed like fate, but was really due to the careful and meticulous planning of one party, to make sure the connection worked out.
Discourse: One of Swift's biggest hits, "Blank Space", is actually satire mocking how Swift is portrayed in the media as a psychologically manipulative maneater. There is a lot of speculation around whether or not  "Mastermind" is similarly satirical, or genuine.
Three hours after the initial release of the album, Swift released seven more songs, mimicking how she releases "vault songs," or songs from the era not featured on the original album, with her re-recorded "Taylor's Version" albums. Similarly to her two previous albums, Swift included a bonus track entitled "Hits Different" and two alternate productions of already existing album songs on the Target CD only, in order to stimulate sales.
Taylor Swift cannot fail. Her reputation precedes her, but Swift is such a modern bard that everything she writes will be inexorably and undoubtedly stellar. The return to pop music, along with the experimental electronica subgenre is something that was not projected for Swift, but is now apparent it was a necessity. Swift is, without a doubt, the most talented songwriter of our generation, and has truly earned her position as a paragon, icon, and legend, up there with greats like Elvis and The Beatles. The misogyny and preconceived notions that cause the lack of appropriate ubiquitous respect for Swift is such a shame because her persona and her craft deserve the utmost acclaim, known all too well.