Meet Nanuet's Official Student Section @NanuetBlackSunrise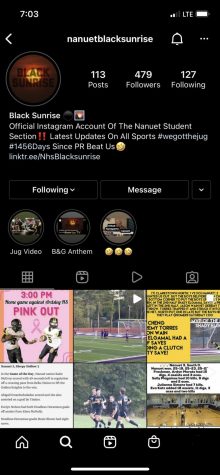 One of the most rewarding parts of going to a small high school like Nanuet is supporting your friends and peers. Senior Jason Wain is well aware of this. Whether it be a tennis match, football game, soccer scrimmage, or cross country meet, the fall season, full of opportunities to show your Knights pride, is one that Nanuet students hold close to our hearts. Being a proud and supportive Knight comes in countless shapes and sizes, but cheering on our athletes here at Nanuet is something that students have come to take very seriously. Sometimes that means making a poster for your team's senior game, voting for a fellow Knight as LoHud's player of the week, or simply supporting a fundraiser. 
According to senior Jason Wain, no matter how you show your support, being a proud Knight makes a big impact. And that's why last spring, Wain created Nanuet Black Sunrise, Nanuet's own student-run Instagram page dedicated to Nanuet's student section; a way for NHS students to be aware and a part of all our athletic events. Through this social media platform, spectators and students alike can ask questions, communicate with fellow Knights, make suggestions, and even be updated daily on how many days it's been since our football team has lost to our rival, Pearl River High School. 
"I didn't want the account to just post scores," Wain said. "It had to be more than that. "I wanted our students, alumni, and parents to have one place they can go for info on themes for big games, awards our athletes have won, and everything else varsity sports."
Social media, specifically Instagram, is an easy way for all students to access information, and several of Nanuet's varsity teams have created accounts dedicated to their sport. This way, updates on practices can be shared, information about games, fundraisers, big wins, player spotlights, and more can all be easily found for spectators, players, and families. 
An account dedicated to just that (but for all sports combined) was Wain's big idea last spring, he explained. It has proven to be widely successful, now with over 100 posts about all things athletics and almost 500 followers in just a few months. 
"I think everyone has kind of bought into being a part of Black Sunrise and you can just tell there's a different, better energy around school and at games," he said. 
This season, Nanuet football is 6-0 and heading to the playoffs. Multiple players have been quoted saying their success is in part due to the electricity of the crowd, the unconditional support from their family and peers. For that, perhaps in part they have Wain to thank.
"Over the past few years, especially during the pandemic, I felt Nanuet had been lacking spirit," Wain said. "For me, my biggest connection to the school is through sports, and I wanted a way for us to have great crowds at football games and basketball games." 
Students and staff alike have noticed an increase in Knight spirit this year. Black Sunrise has given students the initiative to be excited for sports again. After a weird few seasons, this new account on a popular social media platform has served as the perfect catalyst, almost like a hub, for Nanuet athletics buzz. 
It's Wain's hope that this spark will only grow into a bigger flame, he expressed. Fall sports tend to create the most excitement for high school students, though maybe now, with the help of Black Sunrise, all sports will rack up large, cheering, supportive crowds.  
"We have a really good basketball team this year, and I'm just hoping we can carry this momentum into the winter season," he said. 
Black Sunrise, a term that was actually coined years ago, may have seemed random to some. In the middle of a pandemic, when Knight pride and sports spectators were quite possibly at an all time low, an Instagram account dedicated to sports and fans was made. 
"When I was in 6th grade, our Varsity Basketball Team made it to the County Center," he said. "They were really good, and their crowd was even better. They called themselves 'Black Sunrise'. And ever since that year, I felt I needed to revive that. This year, it means everything." 
Wain makes the effort to attend and report on the games of each sport, posting the time, location, and why it is imperative that students show up to support. Wain explained that Football has arguably seen the most support and love this season, though they are not by any means undeserving. 
According to Wain, this year's Homecoming game against Bronxville was "the best day of my high school life, in part because of Black Sunrise." 
But at the end of the day, Black Sunrise isn't about Jason Wain, or football, or gaining followers on Instagram, he explained. 
"I am not Black Sunrise," he said. "We are Black Sunrise. I just happen to run the account." 
Black Sunrise is about showing up and cheering for our teams, supporting our players, and being a Knight, according to Wain.  
"Every single person who has shown up to an athletic event is Black Sunrise," he said. "We need to embrace it as a group, not just one person."