Nanuet Spirit Shines During Spirit Week 2023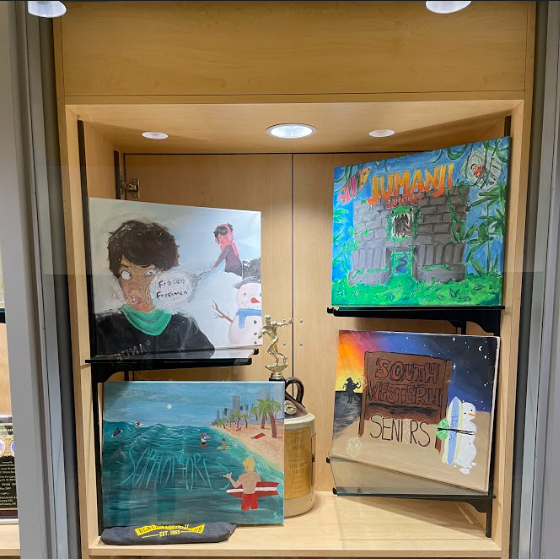 As the school year passes each year, one event that repeatedly captivates the attention of all students and faculty is Spirit Week. Lying between the mid-winter recess and the Spring musical, Spirit Week always seems to come and go in a quick manner. This year, Spirit Week looked somewhat different, but it was still planned by administration and student government to emphasize friendly competition and school spirit.
Spirit Week took place the week of February 27th, and it consisted of five themed days with events throughout the week. Monday's theme was Pajama Day, and students showed school spirit by wearing pajamas and making donations to research on rare diseases. 
Tuesday was Twins Day, during which pairs of students dressed alike to show support for their class and the school. Competitions between the classes were also held during two assemblies on Tuesday. The classes competed in a series of relay races, as well as an academic competition. 
Wednesday was America Day, and students wore red, white, and blue, and donations will continue to be collected to contribute to rare diseases research. Students decorated designated hallways after school according to the class themes, which included Southwestern Seniors, Jumanji Juniors, Surf's-Up Sophomores, and Frozen Freshman.
Thursday's theme was Decades Day, which included students dressing in fashion styles from designated decades according to their classes. The freshmen dressed as if they were from the 1970s, and the sophomores dressed according to styles of the 1980s. The juniors took on fashion from the 1990s, and the seniors wore clothes from the 2000s.
Lastly, Friday was Class Spirit Day and consisted of students dressing in colors according to their classes. The freshmen, sophomores, juniors, and seniors wore blue, red, green, and orange respectively.
Spirit Week is a respected event that is unique at our school. It involves a lot of planning by class advisors and student government, according to Senior Class Advisor Ms. Friedman.
"Spirit Week takes a lot of planning and organization on the Class Senate," she said. "We usually begin brainstorming themes in November. Once we get back from December break, it is full steam ahead. We design and sell class t-shirts as well as make activity rosters and plan hallway decorating."
Student leaders are a big part of the process of planning and executing Spirit Week, according to Ms. Friedman. After advising for four years, she has seen the planning and aftermath of many Spirit Weeks.
"I have to give the 2023 Senate full credit for all of this work," she stated. "They put months of effort into creating an awesome Spirit Week for their class and school community. We are really excited to end our Senior Spirit Week on a high note!"
Although Spirit Week has been changing considerably in recent years, all preparations are designed carefully by the students and administration, according to Student Senate President Heleyna Noval.
"[Student government] usually meets around [December] to discuss the events," she said. "This year we had a lot of meetings with Mr. Carbone and Mr. Mahoney regarding the events. The student government is mainly involved because we produce ideas and hope that they're taken in, and if they're not [feasible] sometimes [they] are evolved into a different type of scenario. "
Although Spirit Week may have looked different this year, it was still widely considered to be a fun and favorable event throughout the school. 
Spirit Week is looked forward to by all students, and it is an important part of the year, as stated by Noval.
"I think Spirit Week is an awesome part of Nanuet High School's school year," she noted. "It is something the students at Nanuet look forward to every year, [and] it builds class connections as well as the school's culture and community. When there is a culture of inclusion and togetherness, it creates a happy and successful student body, which is what we strive for at Nanuet."