After Serving the Nanuet Community for Many Years, Dr. Mark McNeill Retires
Urvi Bhatnagar, School News Reporter
September 24, 2019
Hang on for a minute...we're trying to find some more stories you might like.
This year will be the first in over twenty years that The Nanuet School District will have a new leader. We are all sad to see the esteemed superintendent, Dr. McNeill, go. Throughout the years, Dr. McNeill implemented many important programs into the school district. However, he stated that he alone did not do these programs. These ideas were established and planned with the help and support of the Board of Education, teachers, staff, and community. "All my accomplishments are with other people. I work, always, within a team".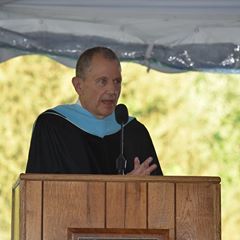 During his tenure, Dr. McNeill was instrumental in bringing in full-day kindergarten, instituting the new schedule, and creating a family resource center program. Dr. McNeil also had the pleasure of being a part of a team that led to the development and expansion of all the school district facilities and had a significant amount of influence on the process that led the district to purchase St. Agatha's, which became the Outdoor Education Center, a place enjoyed not only by students, but parents and teachers. All of these actions were difficult because they all required involving parents, residents of the community, board members, teachers, and administrators, all of whom are stakeholders in the district. As mentioned by Dr. McNeill, "That's the way to successfully accomplish things; by involving others."
One of the biggest changes Dr. McNeil helped to create in the Nanuet School District is the change of time for the bell schedule at the high school. Dr. McNeil stated "I knew back in 2014, when the idea was first raised, when research came out of the CDC in America and the medical association of pediatrics issued this, that this change would be tough for a few reason," one of these reasons being that athletics, and the schedule of practices and games would cause a lot of pushback. The school studied changing the schedule in 2014, but the issue of transportation would mean that the school would have to purchase additional buses. This would have caused the transportation budget to go much higher than it already was. At first, the school board had to pull back because every year it gets more and more difficult to add things to the budget because the state imposed a cap on the tax levy side. However, according to Dr. McNeill " When it was discovered that the change would not, in fact, require any additional buses, the school was able to change a few issues with the transportation system in between to work with the schedule. That meant implementing the schedule was possible, and the health of high school students could improve. "The research was irrefutable." So this important change was instituted.
Dr. McNeil is thankful that he was assisted by a dedicated team of professional educators and a school board that has people who have been there for a long time. This dedication and continuity have resulted in very good relationships between the board, Dr. McNeil, and the central office administrators. Dr. McNeil stated, "When you have those kinds of relationships and stability, you can accomplish a lot. Nanuet is always out there, and we are an innovative district that comes from the creativity of a good team with collaborative relationships." Being a superintendent is a hard job. It means being the person that everyone looks to, although the job cannot be done alone. It is necessary to have a team like the one in Nanuet. "We have Mrs. Bonner, Mrs. Chen, Mr. Mahoney, Mrs.DeGraw, Dr. Fox, and several more who used to be teachers in the district. They know the culture; they have come up with the culture."
Personally, Dr. McNeil thinks that is time to move on. He has no plans of moving out of Nanuet, and his wife is a college administrator who has to work for a few more years. Even after that, He and his wife have no definite plans.
The message that Dr. McNeil wants to leave is that Nanuet parents, community, and board have always been supportive of the schools, and he knows that they continue to support the schools. Nanuet is a community full of wonderful people, and Dr. McNeil appreciates everything they do. "I'm very proud to have been able to be a part of the Nanuet School District for so long." Well, Dr. McNeil, Nanuet School District is proud to have had you be a part of the team, and wishes you good luck for the future. Thank you for everything you have done!